bout U
Simply Glamorous Floral is a San Diego based floral design service. Simply Glamorous Floral was founded by Jennifer Getto as a result of a life-long passion for floral design that began in a tiny flower shop in Bonita, CA.
Jennifer now has over 20 years experience in floral design, including working with some of the area's top floral designers.
Simply Glamorous Floral is known for bridging the gap between vintage and contemporary; creating a timeless expression of our clients vision for their special day. Jennifer has put all of her knowledge, skill and a little love together to create a perfect potion of timeless beauty.
We work closely with each client on all aspects of a design to capture the client's true vision. We take pride in making sure every detail is taken care of.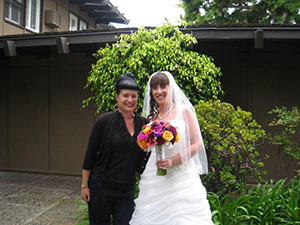 We specialize in Weddings, Quinceaneras, Funerals, Baby/Bridal Showers, Themed, Holiday, Corporate or any other special/significant events.
We are a custom floral design service that will provide our clients with an intimate "one on one" design process to create your memorable event. We pride ourselves on providing individual personalized attention to create a beautiful product from start to finish.
No event is too large. No budget is too small. We would be happy to work with you.
eet the Owner/Designe
Hello. My name is Jennifer and I am the owner/designer of Simply Glamorous Floral & Events. I have had a love and passion for flowers, color, design and antiques since a young age. I enjoy spending time with the "Love of My Life" on our small urban farm of dogs, cats, chickens and a large vegetable garden. I feel very blessed to have such an amazing job that allows me to enjoy the simple things in life and use my creative gifts to bring joy to other people.
I started my floral adventure in a tiny flower shop in Bonita, CA, at age 14. As the years went by I kept in the industry, working at many flower shops and large catering companies around San Diego county. I was able to work with many different amazing Floral Designers, Wedding Planners, Venues and Coordinators, learning a little something from each and every one of them. Being in the floral industry for over 25 years and being a little OCD and a perfectionist, I realized that I needed to branch out and work for myself. Also being an avid "Junker" with a love of old things, I decided to start renting out vintage treasures I had accumulated over the years. Equipped with these assets, I found I could create a unique design from start to finish.
I started Simply Glamorous knowing I did not want to be a "floral shop" but a floral, design and planning service and studio. Having my hands in the entire design achieved a fabulous end product. With all that I learned from planners, caterers, coordinators and floral shops, I was able to start a wonderful business. I really enjoy working "one on one" with my clients and giving them a little piece of my heart in each wedding or event. I know after each event is over, I have put all my pride and passion into it. Being able to be a small part of my Clients most cherished day is a pretty special feeling, and that is why I Love what I do!